This room is the suite of the villa!  Here you can comfortably stay 3 friends or maybe a family of 3-4 people as it has a day-bed as well as the double bed.  The veranda doors open up to the inner courtyard terrace,  this room is very bright thanks to it's windows.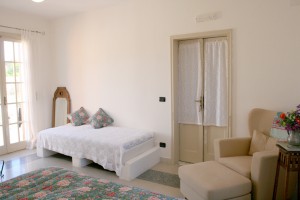 Free wireless Internet in and around the house!
€80/night including breakfast for two, triple occupancy €90/night
Book at:  info@villaottilia.com
Multiple days = discount! (7+ days 20%) Long term bookings, special pricing!
[Translate]