---
---
---
Lately I've been picked on for not blogging enough, but when life spins in 5th gear and nothing is quite "blogable" then the posts come scarcely…
However, Holiday Season is here and that means plenty of opportunities to share the joy and skoj 😉
Today I gave "blood donating" in Oria a second chance and this time succeeded, I'd like to share the differences between the countries which I have donated in as I find it fascinating.
In Fort Lauderdale, Florida I donated for the first time and many, many times after that.  The donation center was run by a group of girls who made the visit worthwhile just for the laughs, it was almost like being part of one of the modern TV shows where everyone shares everything with each others. After donating we got a juice and a cookie, if I recall correctly.  The donations were done all day long, no restrictions on eating before donating.
At "Blodtappen" Stockholm, Sweden I tried donating blood but didn't succeed although I had donated for years in Florida.  Now I will get a bit personal as I feel that this still upsets me… This place is set up for convenient donating, no scheduled appointment and very well located in central Stockholm just as you exit a subway station.  I went there thinking I'd get to donate that same day, but after giving a blood sample and filling out a form they said they would call me to schedule an appointment.  Already there I got a bit upset; why not take the blood and if it's not good, throw it!  Anyway, got the call back, scheduled a time (not very convenient) and went there ready to donate.  My number was called and I headed towards the beds, but was re-directed into a small room for consultations:
Nurse: – You have marked on your form that you have changed partner within the last 6 months so you cannot donate blood.
Me (annoyed): – What???  I've been here twice, you've tested my blood and all is fine but you won't take my donation?
Nurse: – That is correct, it is our rules and regulations.
Me (livid): – Would you accept blood from married people?
Nurse: – Yes, of course (smiling)
Me (livid): -And you believe that there is no cheating in  this world, that a married person could be sure their partner have not had unprotected sex with someone else?  Instead of accepting blood from me who knows EXACTLY what I have done and not done?
Nurse: – It is our rules and regulations. (not smiling anymore, nervously turning her wedding band on the finger)
Me (livid): Well I guess you don't need blood then, I will never again go through this humiliation!  
That was my experience in Sweden, however my family donates frequently and have not experienced this kind of stupidity so I might reconsider if I end up in Sweden again at some point 😉                                                                 I know that in Sweden you are advised to eat well the day of your donation as you might need the strength, donations are done throughout the day so no restrictions on donating on an empty stomach. There is a small reimbursement for donating (3€) which most people donate right back and you are offered some snacks after it is done.
At AVIS, Oria, Italy you are welcomed by a team of volunteers as if you are there to donate a Million Euro! As I do not master the language very well I was a bit nervous for medical questions, but they walked me through everything with a smile. I had been told to come there on an empty stomach and timings are 8-12 Sunday morning once a month or so. I figured I'll go early as I am not a big fan of leaving the house before breakfast, and definitely want to get it done fast and then have my breakfast! As you enter the building you get a number, this number is a keeper throughout the process  and even after you leave, as they use the number as a lottery ticket after every donation. Documents are checked, forms filled and off you go for a blood sample. Immediately you are handed the results on a slip and guided to a doctor who checks your blood pressure and asks a few questions.  This is where my first attempt ended as I had not had a ECG done recently (never, I think…). I returned to the form filling desk and they made sure to have all my contact information and welcomed me back 3 weeks later as the ECG would be in place that day and I could donate.  I was given juice, coffee & freshly baked goodies from the # 1 bakery in town.  A few hours later I received an e-mail, welcoming me for the said date 3 weeks later.  A few days later I got a call from the president of the association asking if I could come and do the ECG an evening this week, which I was not able to do but promised to show up for the next donation.  At this point I started to feel as if it must be gold flowing through my veins..
Today I went to finally donate, it's been 11 years since the last time due to the "rules and regulations in Sweden"… I arrived early ( I thought) but the parking was already full and as I entered the line to register long…  One of the ladies spotted me from far and called my name pointing on an empty chair by her table,  once again feeling like a celebrity surrounded by smiling faces.  My number was 54, turned out to be the lucky number as today I succeeded to: test the blood, ECG, Blood Pressure taken, shot of espresso with sugar to get it up a bit, then finally I was on the stretcher 🙂  Oh boy did she have to work on me, couldn't find a good vein, smacked, rubbed and worked it for a good five minutes until she decided to try.  It was a little bit painful but slowly we got it to work, slowly but securely.  The people around be donated in 5 min and off they went, it took me quite a while to squeeze out 390ml…  But they got it, thanked me and made sure constantly that I was not feeling dizzy or faint or or or…  As I approached the exit the ladies spotted me again and I got to finally register as a member, I had passed the ritual! The nice lady at the café made sure I got a seat, freshly baked pastry and a coffee! Before leaving they handed me me these gifts:
This is Italy:  Rosé wine and aged cheese as a donation gift!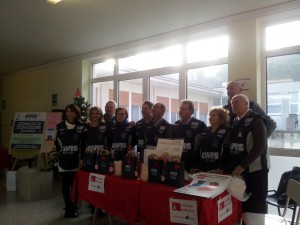 Here is the team of volunteers who are doing a great job and makes me pick blood donating in Oria over other places!!!
---
---
---
---
---
---
---